We have released information on the ticket price and admission gifts for Touken Ranbu:The Musical "Utaawase Ranbukyouran 2019" 4DX version, which will be on screens starting October 30 (Fri)
Touken Ranbu:The Musical "Utaawase Ranbukyouran 2019" 4DX version will be available in 22 theaters with 4DX screens around Japan starting October 30 (Fri) for a limited time of 2 weeks.
Here are the ticket price and the admission gifts for visitors who come to watch the show.
- Ticket Price: 2,600 Yen (tax included)

●Ticket Release Date: Tickets will be available to purchase 2 days before each show.
Online sales begin at midnight.*Please purchase from your preferred theater's website
Theater ticket window: Sales begin from the opening time of the theaters


[Theater Locations]
1) United Cinemas Sapporo 0570-78-3011
2) Cineplex Ashikawa 0570-783-882
3) United Cinemas Mito 0570-783-396
4) United Cinemas Maebashi 0570-783-727
5) United Cinemas Kasukabe 0570-783-458
6) United Cinemas Iruma 0570-783-241
7) United Cinemas Wakaba 0570-783-815
8) United Cinemas Niiza 0570-783-411
9) United Cinemas Terrace Mall Matsudo 0570-783-583
10) United Cinemas Aqua City Odaiba 0570-783-804
11) United Cinemas Toyosu 0570-783-789
12) United Cinemas Toshimaen 0570-783-980
13) United Cinemas Niigata 0570-783-401
14) United Cinemas Toyohashi 18 0570-783-668
15) United Cinemas Otsu 0570-783-014
16) United Cinemas Hirakata 0570-783-450
17) United Cinemas Kashihara 0570-000-206
18) United Cinemas Canal City 13 0570-783-550
19) United Cinemas Fukuoka Momochi 0570-783-102
20) United Cinemas Nagasaki 0570-783-282
21) United Cinemas Kumamoto 0570-783-087
22) United Cinemas Parco City Urasoe 0570-783-018
●Admission Gift
Original "Film Reel Bookmark" 2 types, 1 for each week
*Size: Around 57x150mm
*Design/Material: Paper, printed on both sides
*Number of gifts available are limited. Please note that it will be given out on a first-come, first-served basis.

[1st Week Give-out Design]
Kogitsunemaru/Ishikirimaru/Imanotsurugi/Yamatonokami Yasusada/Izuminokami Kanesada/Horikawa Kunihiro/Hachisuka Kotetsu/Nagasone Kotetsu/Nikkari Aoe/Kuwanagou
Give-out period: October 30th (Fri)–November 5th(Thu)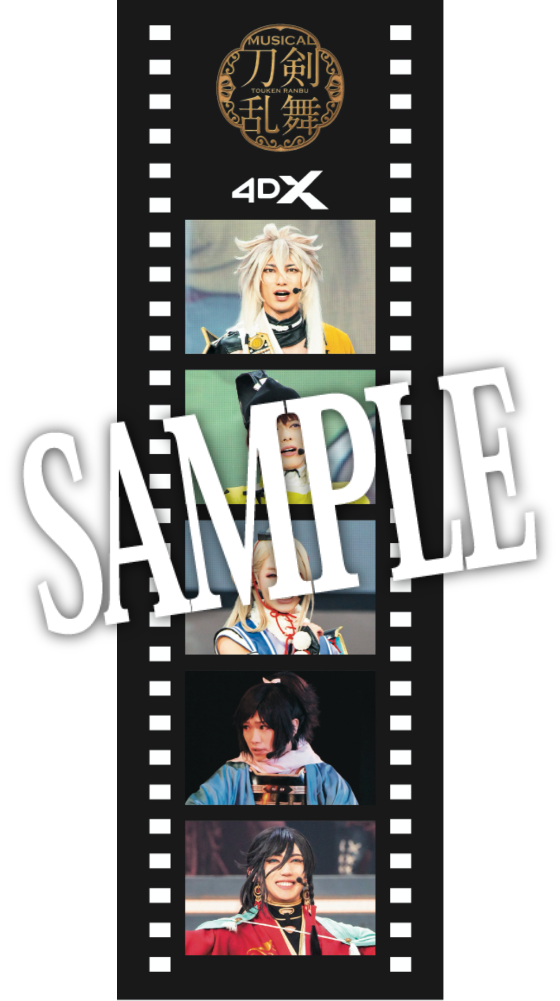 [Front]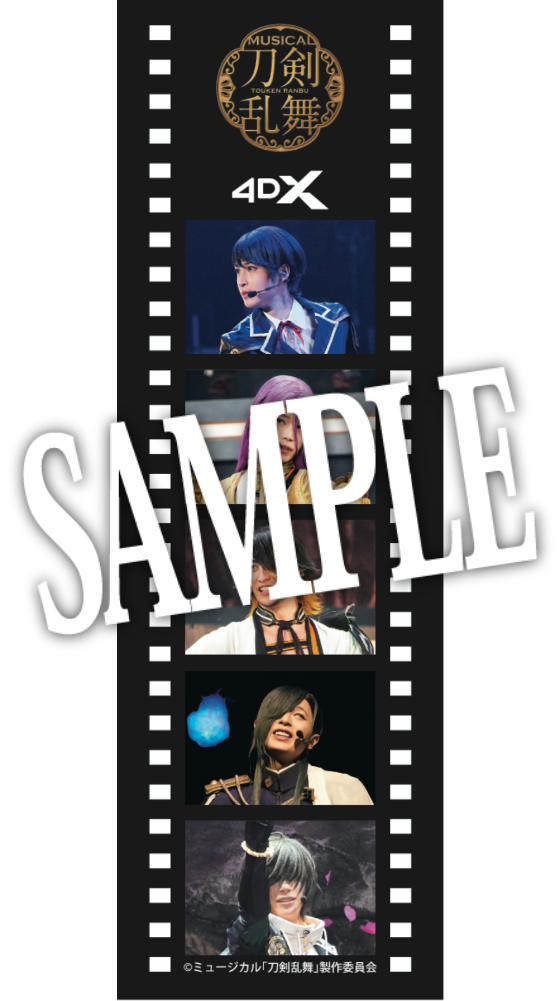 [Back]
[2nd Week Give-out Design]
Tonbokiri/Monoyoshi Sadamune/Ookurikara/Mutsunokami Yoshiyuki/Tomoeganata Naginata/Akashi Kuniyuki/Tsurumaru Kuninaga/Otegine/Kotegirigou/Matsuigou
Give-out period: November 6th (Fri)–November 12th (Thu)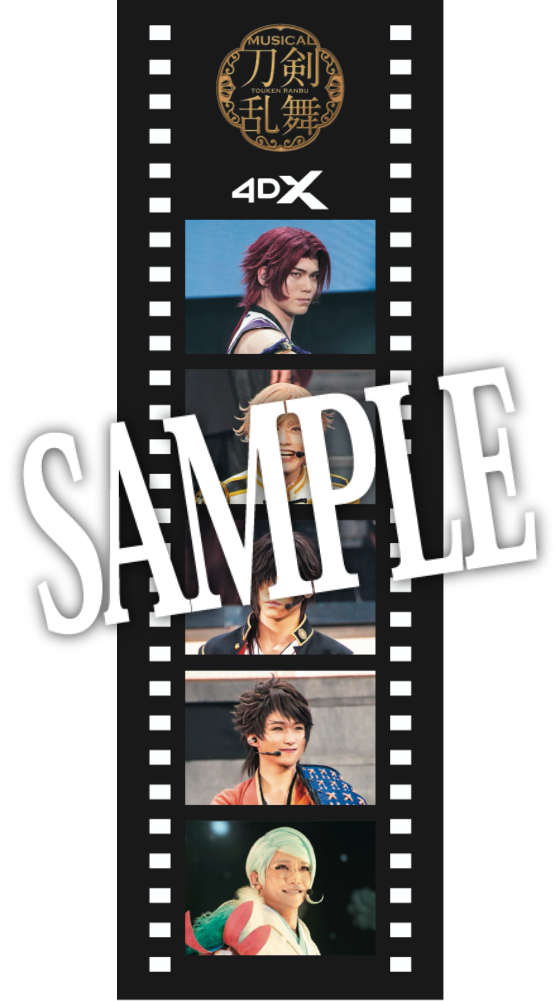 [Front]
[Back]

*These photos are for reference only. The design may change without prior notice.
*As they are limited in number and will be first-come, first-served, give-outs will be terminated once we run out of stock.
*Each customer will receive 1 piece during admission.
*Only for customers watching Touken Ranbu:The Musical "Utaawase Ranbukyouran 2019" 4DX version".
●Contact
Please reach out to your preferred theaters for showtimes, tickets, and other issues.