Touken Ranbu:The Musical "Shinkenranbusai2022" 4DX
coming to theaters nationwide from October 13th (Fri)!
For a limited 2-week period starting October 13th, 2023 (Fri), Touken Ranbu:The Musical "Shinkenranbusai2022" 4DX will be shown on 4DX screens at 57 theaters across Japan!
The video that will be screened for this 4DX version is the video of the Grand Finale Performance held at the Yoyogi National Stadium 1st Gymnasium on June 26th, 2022 (Sun).
There will be no intermissions during these showings. We thank you in advance for your understanding.
Also, you may bring glow sticks and other items to cheer with, but please be considerate and mindful of other attendees around you when using such items.
Attendees will receive a bonus "Film Reel Bookmark" (2 types) for coming. The type will change for each of the weeks.

[Screening Period]
October 13th (Fri) to October 26th (Thu), 2023
[Admission Price]
2,800 yen (tax-included) (includes additional 4DX charge)
*2,900 yen (tax-included) for Cinema Sunshina, Korona Cinema World
*3,000 yen (tax-included) for Grand Cinema Sunshine Ikebukuro


[Ticket Sales Date]
Ticket purchases will be available for each screening starting 2 days prior.
Online sales begin at midnight. *Please purchase from your preferred theater's website.
Theater ticket window: Sales begin when the theater opens.
The date that tickets go on sale will vary depending on the theater, so please consult the theater's official website for more details.
[Theater Locations]
- Hokkaido/Tohoku regions
United Cinemas Sapporo 0570-78-3011
Cineplex Asahikawa 0570-783-882
Aeon Cinemas Natori 022-381-0708
109 Cinemas Tomiya 0570-013-109
- Kanto region
Forum Nasushiobara 0287-60-7227
United Cinemas Mito 0570-783-396
United Cinemas Maebashi 0570-783-727
109 Cinemas Shobu 0570-040-109
United Cinemas Kasukabe 0570-783-458
United Cinemas Iruma 0570-783-241
United Cinemas Wakaba 0570-783-815
United Cinemas Niiza 0570-783-411
Aeon Cinema Koshigaya Lake Town 048-990-3661
United Cinemas Makuhari 0570-783-231
United Cinemas Terrace Mall Matsudo 0570-783-583
Grand Cinema Sunshine Ikebukuro 03-6915-2722
United Cinemas Aqua City Odaiba 0570-783-804
United Cinemas Toyosu 0570-783-789
United Cinemas Toshimaen 0570-783-980
109 Cinemas Grandberry Park 0570-012-109
Aeon Cinema Theaters Chofu 042-490-0039
Aeon Cinemas Minato Mirai 045-222-2525
Odawara Korona Cinema World 0465-45-5688
109 Cinemas Sano 0570-019-109
- Chubu region
United Cinemas Niigata 0570-783-401
Cinema Sunshine LaLaport Numazu 055-955-5551
Cinema Sunshine Numazu 055-926-7712
United Cinemas Toyohashi 18 0570-783-668
Toyokawa Korona Cinema World 0533-85-6401
Komaki Korona Cinema World 0568-75-7404
Nakagawa Korona Cinema World 052-303-7311
Anjo Korona Cinema World 0566-74-8232
Kanazawa Korona Cinema World 076-266-5774
Ogaki Korona Cinema World 0584-75-5760
109 Cinemas Yokkaichi 0570-051-109
- Kinki region
United Cinemas Otsu 0570-783-014
Aeon Cinema Kyoto Katsuragawa 075-925-0075
United Cinemas Hirakata 0570-783-450
109 Cinemas Osaka Expocity 0570-072-109
Aeon Cinema Shijonawate 072-863-1166
109 Cinemas HAT Kobe 0570-011-109
Chinema Sunshine Yamatokoriyama 0743-58-5111
United Cinema Kashihara 0570-000-206
- Chugoku/Shikoku regions
109 Cinemas Hiroshima 0570-002-109
Fukuyama Korona Cinema World 084-981-5031
Cinema Sunshine Emifull MASAKI 089-984-2211
Cinema Sunshine Kitajima 088-697-3113
- Kyushu/Okinawa Regions
United Cinemas Canal City 13 0570-783-550
United Cinemas Fukuoka Momochi 0570-783-102
Kokura Korona Cinema World 093-581-5628
United Cinema Nakama 16 0570-783-430
Aeon Cinema Chikushino 092-918-3030
109 Cinemas Saga 0570-022-109
United Cinemas Nagasaki 0570-783-282
United Cinemas Kumamoto 0570-783-087
Cinema Sunshine Aira 0995-55-0333
United Cinemas Parco City Urasoe - 0570-783-018

[Admission Bonus]
Original "Film Reel Bookmark" 2 types, 1 for each week
*Size: Around 47x150mm
*Design/Material: Paper, printed on both sides
*The number of bonus gifts available are limited. Please note that they will be given out on a first-come, first-served basis.

[1st Week Give-out Design]
Kogitsunemaru/Imanotsurugi/Yamatonokami Yasusada/Izuminokami Kanesada/Horikawa Kunihiro/Hachisuka Kotetsu/Nagasone Kotetsu/Tonbokiri/Akashi Kuniyuki/Tsurumaru Kuninaga/Kuwanagou/Matsuigou/Urashima Kotetsu
Give-out period: October 13th (Fri) to October 19th (Thu)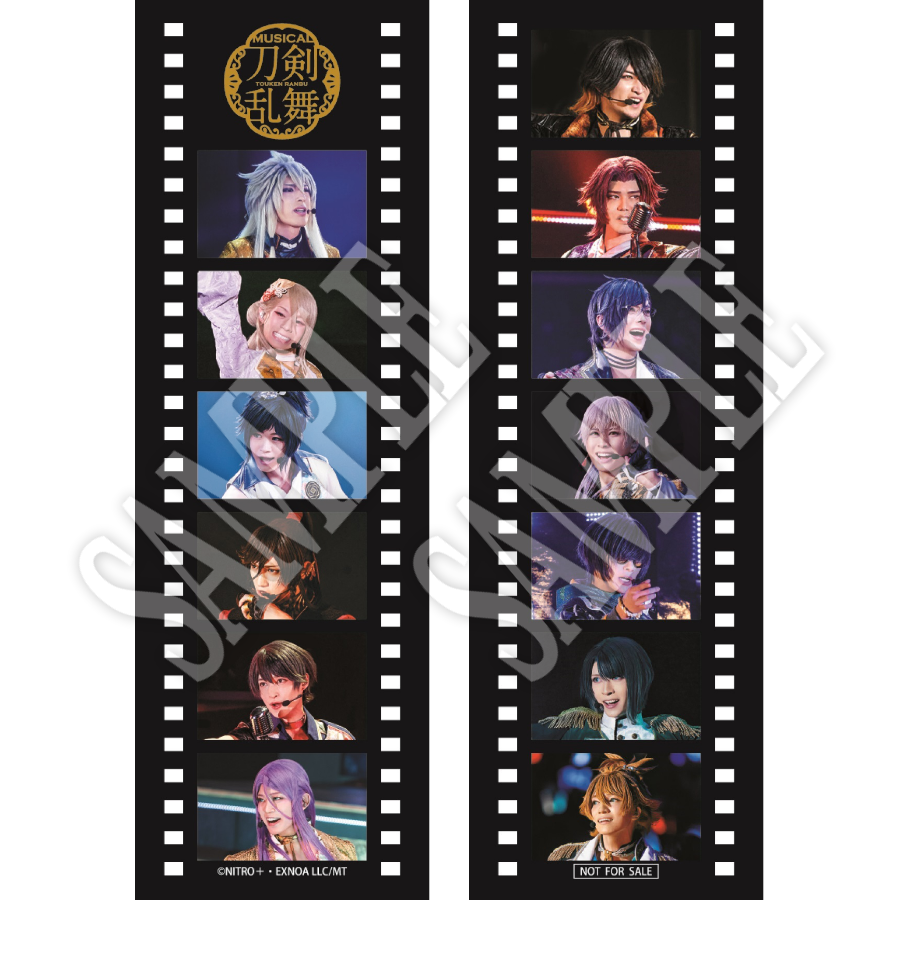 [2nd Week Give-out Design]
Hyuuga Masamune/Buzengou/Oodenta Mitsuyo/Sohayanotsurugi/Suishinshi Masahide/Minamoto Kiyomaro/Samidaregou/Murakumogou/Ookanehira/Koryuu Kagemitsu/Nansenichimonji/Hizen Tadahiro/Kotegirigou
Give-out period: October 20th (Fri) to October 26th (Thu)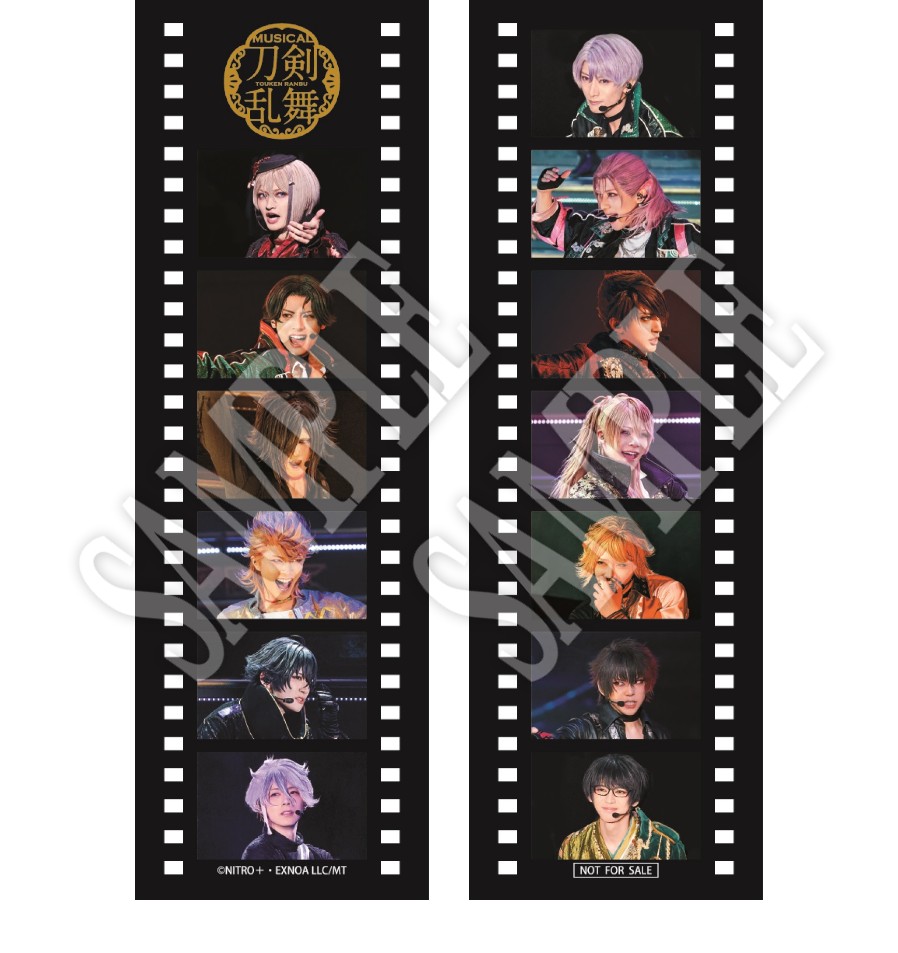 *Images are for reference only. The design may change without prior notice.
*As they are limited in number and will be first-come, first-served, give-outs will be terminated once we run out of stock.
*Each customer will receive 1 during admission.
*For attendees of "Touken Ranbu:The Musical "Shinkenranbusai2022" 4DX."

[Official website of each theater]
United Cinemas/Cineplex
https://www.unitedcinemas.jp/
Cinema Sunshine
https://www.cinemasunshine.co.jp/
Korona Cinema World
http://www.korona.co.jp/
Aeon Cinemas
https://www.aeoncinema.com/
109 Cinemas
https://109cinemas.net/
Forum
https://forum-movie.net/